Our Programs
Founded in January 2009, the Fredericksburg Soccer Club Incorporated (FSCI) is a youth soccer club based in Fredericksburg VA. FSCI features a variety of programs for children of different backgrounds and experience levels. FSCI offers a very strong coaching staff and affordable membership dues. Many FSCI players experience success at the high school and college level.

---
Our club offers a variety of programs for players of different needs and experience levels. The pyramid on the right shows how the various FSCI programs relate to each other. A player has the opportunity to advance up each layer in the pyramid into more challenging environments.

Academy
Provides players local games with quality training. The Academy is a step above the local recreation leagues because players work with professional coaches. The training is a key feature that sets our program apart from the local rec leagues.

Futures
Provides players games with some limited travel and quality training. The Futures program is a step above our academy program. Our futures program provides more practices and a more competitive environment than the Academy. The futures program has a reduced cost and reduced commitment compared to our Travel Soccer program.

Travel Soccer
The travel soccer program is our most challenging and competitive program. This program is for the player that seeks top level coaching and enjoys a challenging competitive environment. In order to join the travel program, a player must tryout and be selected into the program.

Extra Programs
Our extra programs consists of camps, clinics, and other events designed to compliement your child's existing soccer schedule. Most events occur during the winter or summer.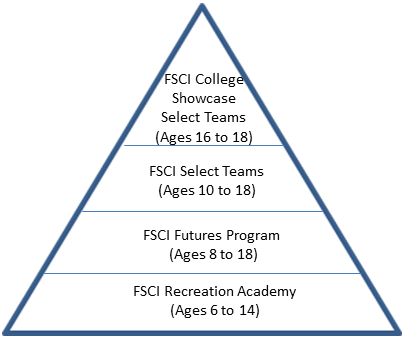 COMPARE OUR PROGRAMS
To help families choose the best program for their sons and daughters, we prepared a chart comparing the key features of each of our programs.
Click here for the comparison chart


---