FALL 2023 EARLY BIRD FEES THRU JUNE 2
Standard Package - $60 (Regular fee $75)
* Fee covers the entire Fall 2023 season
* Games Only
* Includes Gameday T-Shirt
* Eligibility: Children Born in 2019, 2018

Enhanced Package - $65 (Regular fee is $150)
* Fee covers the entire Fall 2023 season
* 1 practice per week and games
* Practice on Mondays
* Professional coaches plan practices
* Includes Gameday T-Shirt
* Eligibility: Children Born in 2017, 2016, 2015, 2014, 2013, 2012, 2011, 2010, 2009

Advanced Package - $105 (Regular Fee is $225)
* Fee covers the entire Fall 2023 season
* 2 practices per week and games
* Practices on Mondays and Wednesdays
* Professional coaches plan practices
* Includes Gameday T-Shirt
* Eligibility: Children Born in 2017, 2016, 2015, 2014, 2013, 2012, 2011, 2010, 2009


WHEN
Starts: Monday August 14
Ends: Early October
Games: Saturdays starting August 19
Practices: Mondays, Wednesdays
* Exact schedule posted on the Schedule Page


WHERE
Various locations in Northern Spotsylvania County


PLAY TOGETHER WITH FRIENDS !
Children can play on the same team as their friends on gameday provided that they qualify for the same age division. We encourage groups of friends to signup together.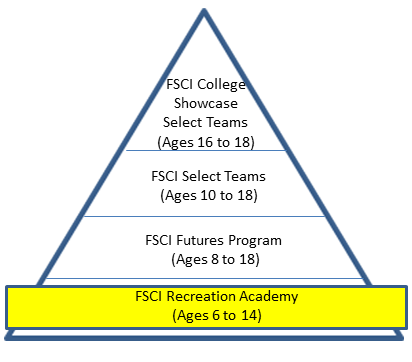 Professional Coaches
Our program is led by professional coaches who hold USSF Coaching Licenses and/or NSCAA certifications and supplemented by volunteers. Click here to read about the value of coaching certifications


Skills Training
All practices are planned in advance. Coaches will provide training based on the experience level and age. With various skill levels throughout the academy, some players will be challenged more to maximize their potential.


Benefits of Small Sided Format
Our program utilizes a small sided game format because its better for skills development than a larger game format. The smaller game format allows players to have more touches on the ball. At the younger ages, it is not appropriate to play larger game formats like 11v11 until a player has mastered the fundamentals and can process abstract elements of the game. Click here to see our full list of benefits


DISCLAIMER
* Minimum of 6 practices for the 1 practice package
* Minimum of 12 practices for the 2 practice package
* Any discount can not be combined with other discounts
* Each practice is either 45 minutes or 60 minutes
* Click here to see our full list of disclaimers