Futures Soccer Program
The Futures soccer program is for the player that seeks a more challenging environment than our Academy program without the full travel soccer experience. There are more practices than the Academy and a limited amount of games outside of Spotsylvania County. The Futures program has a lower cost, reduced travel, and reduced time commitment compared to our Travel Soccer program.
---
Futures Program Overview
Players that are interested in our Futures program must first tryout. Please contact us about setting up an individual tryout or goto our tryouts page to see the next available tryout dates.

Our Futures program offers players a continuous pathway of individual development throughout the fall, winter, and spring seasons.

Home games are typically played a Patriot Park or Dixon Park. Practices are typically held at various fields in Spotsylvania County or indoors at the FSCI Training Center.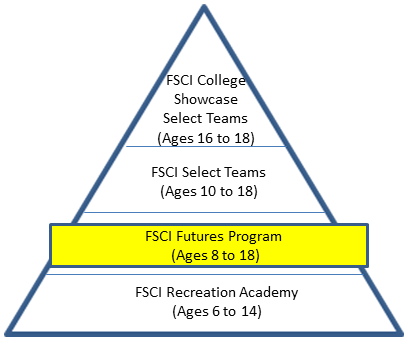 ---

Contact Information
If you have any questions or need more information about our Travel Soccer program, please feel free to contact us.
---