FSCI - NSCAA EDUCATION PARTNER
Posted on 7/26/2015 at 8:45pm
FSCI is now an NSCAA education partner. The NSCAA states "National Soccer Coaches Association of America welcomes Members of Fredericksburg Soccer Club to the largest coaching organization in the world. NSCAA Diploma Courses provide exceptional low cost learning opportunities at the convenience of the participant."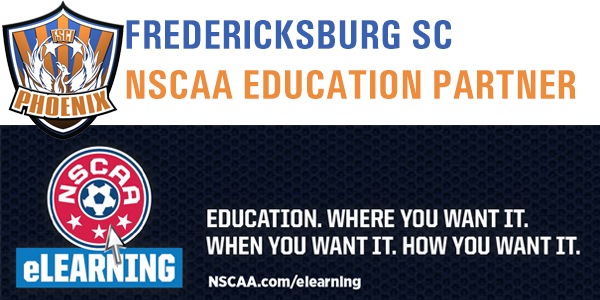 TRAVEL SOCCER PROGRAM - LOOKING FOR PLAYERS
Posted on 7/26/2015 at 8:45pm
We are looking for players in the travel soccer program in the following age groups ONLY. Please help spread the word. Thanks !

U10 Boys - Players Born between August 1 2005 to July 31 2007
U15 Boys - Players Born between August 1 2000 to July 31 2002
U13 Girls - Players Born between August 1 2002 to July 31 2004


Register here to Tryout

FSCI Accepted into WAGS
Posted on 6/18/2015 at 11:20pm
FSCI has been accepted into WAGS starting with the Fall 2015 season. WAGS announced this on Thursday June 18 at 9pm. More details to come soon.

WAGS Website

FSCI Accepted into NCSL
Posted on 5/4/2015 at 11:20pm
FSCI has been accepted into NCSL starting with the Fall 2015 season. NCSL announced this on Monday May 4 at 830pm. More details to come soon.

NCSL Website

FSCI Hires Damion Blackburn as Technical Director
Posted on 4/13/2015 at 10:15pm
FSCI is pleased to announce the hiring of Damion Blackburn as the new FSCI Technical Director. Coach Blackburn will oversee the club's training methodology, coaching staff, and make technical decisions on player development issues.

Coach Blackburn played for the Columbus Crew and also played 4 years at the University of Dayton (NCAA Division 1). He holds the NSCAA Advanced National Diploma course and USSF C License. Coach Blackburn will start at FSCI in the coming weeks.

Click here for Coach Blackburn's Bio

FSCI Donates Old Uniforms to a school in Burundi Africa
Posted on 3/24/2015 at 8:15pm
Remember last fall when we were asking our travel soccer players to submit their old uniforms ? Our U12 parents led a project to send our old uniforms to a school in Burundi Africa. Please check out this article -

Local Soccer Club Creates Joy For African School - Fredericksburg Parent Article