Travel Soccer Program Overview
There are 2 levels within an age group designated as either ORANGE or WHITE. Our Orange team is the designated "A" team in the age group and features the most competitive and demanding environment. The White team is the designated second team in the age group. All players in an age group, regardless of team designation, have the same opportunities for advancement. Please read thru each age group plan in the benefits page for more details.

Home games are typically played a Dixon Park, Patriot Park, or the VYSA Complex. Practices are typically held at the bermuda grass fields in Spotsylvania County or indoors at the FSCI Training Center.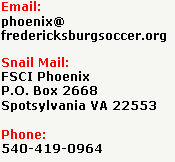 .
Age Groups
The age groups listed below are effective for the Fall 2017 and Spring 2018 season.


Birthdate: Jan 1, 2008 to Dec 31, 2009


Birthdate: Jan 1, 2007 to Dec 31, 2007


Birthdate: Jan 1, 2006 to Dec 31, 2006


Birthdate: Jan 1, 2005 to Dec 31, 2005


Birthdate: Jan 1, 2004 to Dec 31, 2004


Birthdate: Jan 1, 2003 to Dec 31, 2003


Birthdate: Jan 1, 2002 to Dec 31, 2002


Birthdate: Jan 1, 2000 to Dec 31, 2000


Birthdate: Jan 1, 1999 to Dec 31, 1999


Birthdate: Jan 1, 2005 to Dec 31, 2007


Birthdate: Jan 1, 1997 to Dec 31, 1999


Goalkeeper Training